AIGA Design Census - A starter kit for emerging designers

2020, print + AR

Collaborators:
Sophia Kim
Jenni Lee
Jenna Kim
The anxiety a design student experiences as they progress through years of higher education is extremely overwhelming - we are plagued with uncertainties regarding our future. Will we be able to get a sustainable job? Will we be able to be happy?

To quell some of these unknowns, we created a lighthearted fortune-telling design kit for emerging designers as a way to summarize key insights about the current industry and help fellow designers through our shared struggle. We will all get through this together!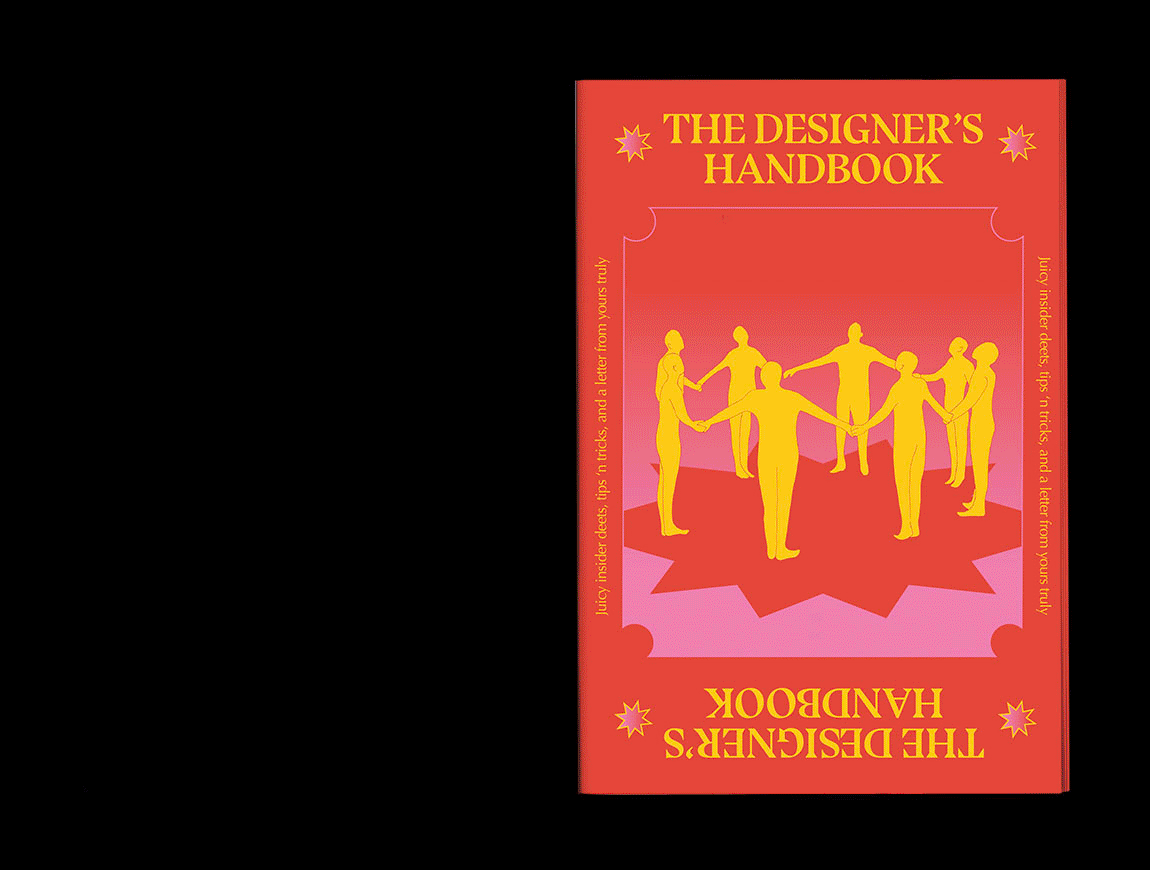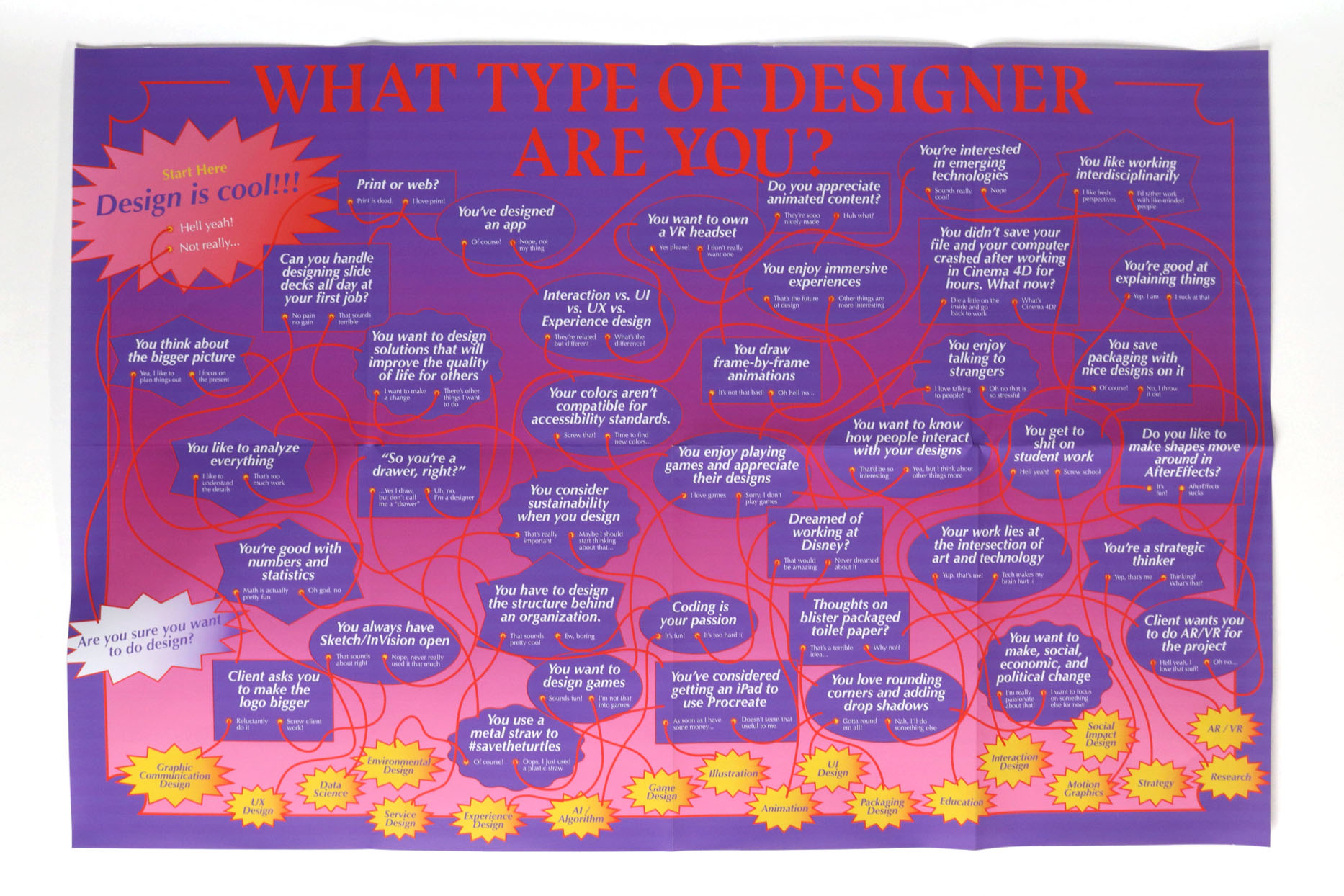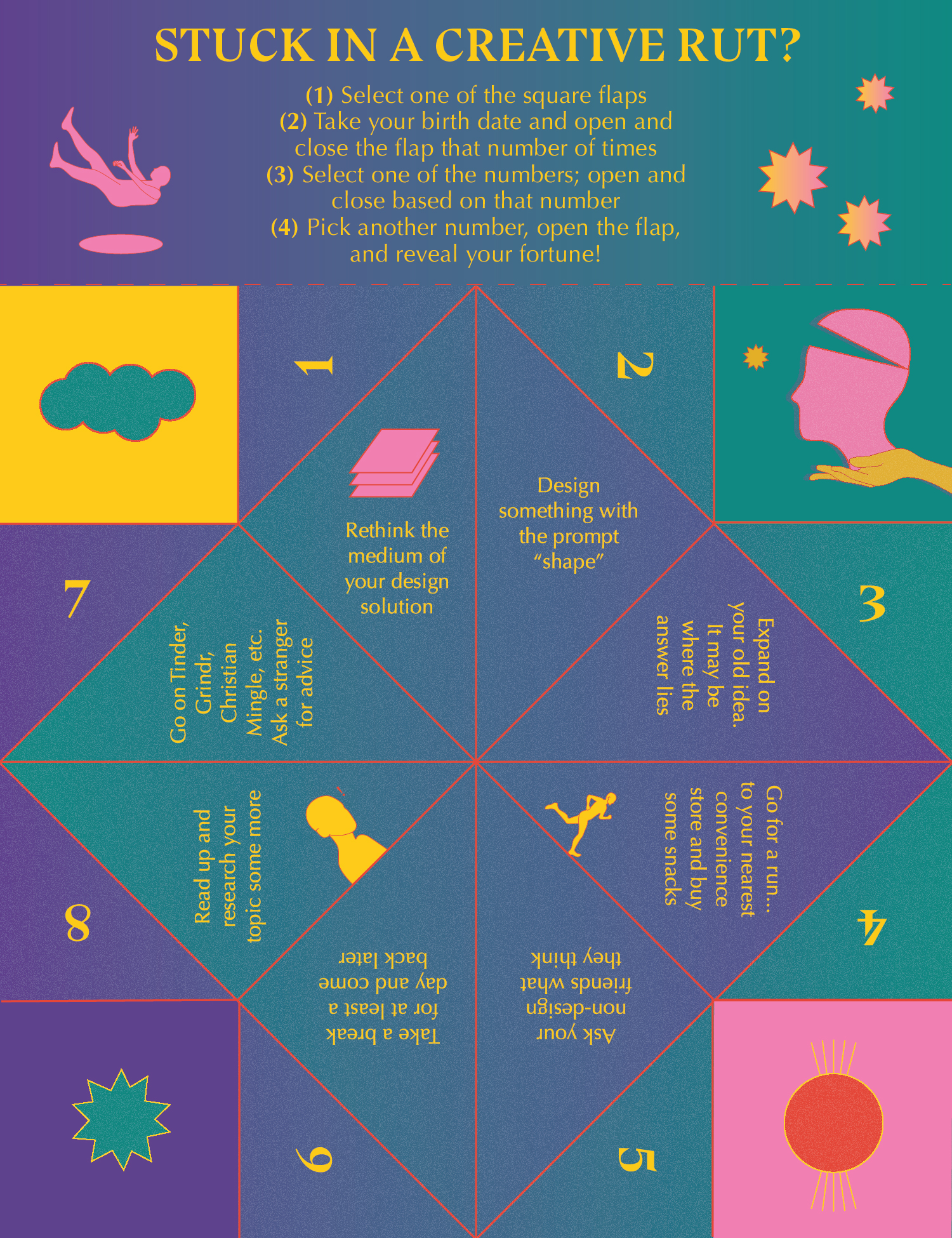 OVERALL CONCEPT
This is a design toolkit for emerging designers at school. It offers lighthearted and informative information about the state of current design field as well as advice and resources for each design discipline.
There are four components to this kit:
2 informative pieces: "tarot card" data visualizations of designer satisfaction and salary ranges + informational zine containing resources for young designers
2 light-hearted pieces: decision tree poster to discover which industry is a good fit + origami fortune teller to help you get through that creative rut
Framed around the idea of looking into the future, we based our toolkit around the concept of fortune telling. This kit offers students a glimpse into the present and the future, and by using a humorous approach to the copy, we wanted to address student anxieties with dry humor that provides a sense of solidarity since we, too, are in the same boat.
VISUAL IDENTITY
TAROT CARD DATA VISUALIZATIONS (6.25in x 3.5in)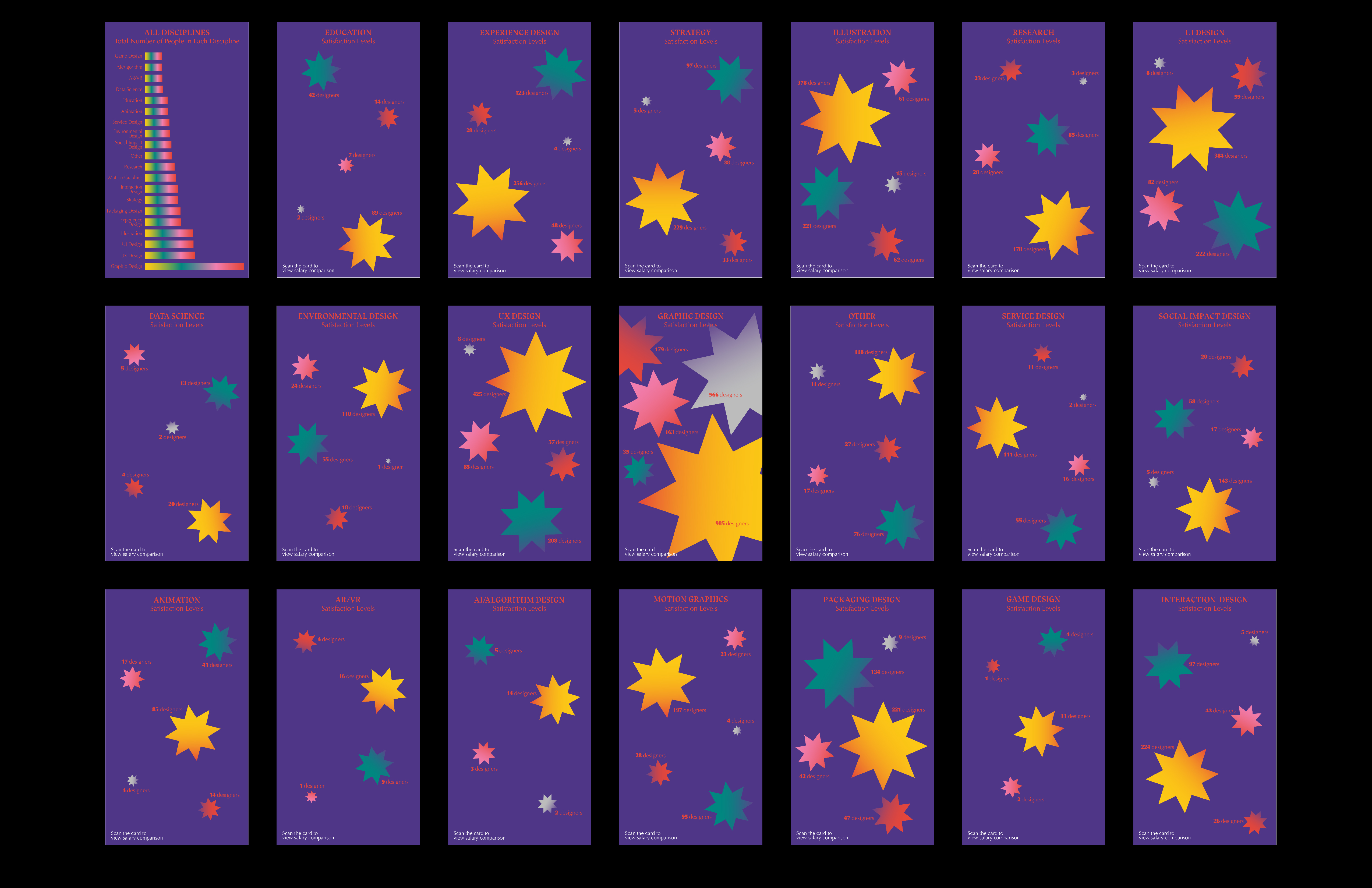 There are a total of 21 tarot cards:
One card per design discipline and one card summarizing all the disciplines

The front side is an illustrative interpretation of the discipline at hand, while the back side is a proportional representation of satisfaction levels of designers within that discipline. The back side can be scanned with any mobile device for an AR view of secondary level information that displays the distribution of salary within each satisfaction level. Students can then click into each salary range and compare across satisfaction levels. This interaction will be built in AR.js, which allows for users to directly access the AR view without downloading any additional applications.



ZINE (8.5in x 5.5in)
The zine provides an opportunity to discover resources surrounding different design disciplines and further learn information about the design field. Pages include a question and answer section, common skills designers have, and companies/studios within each discipline.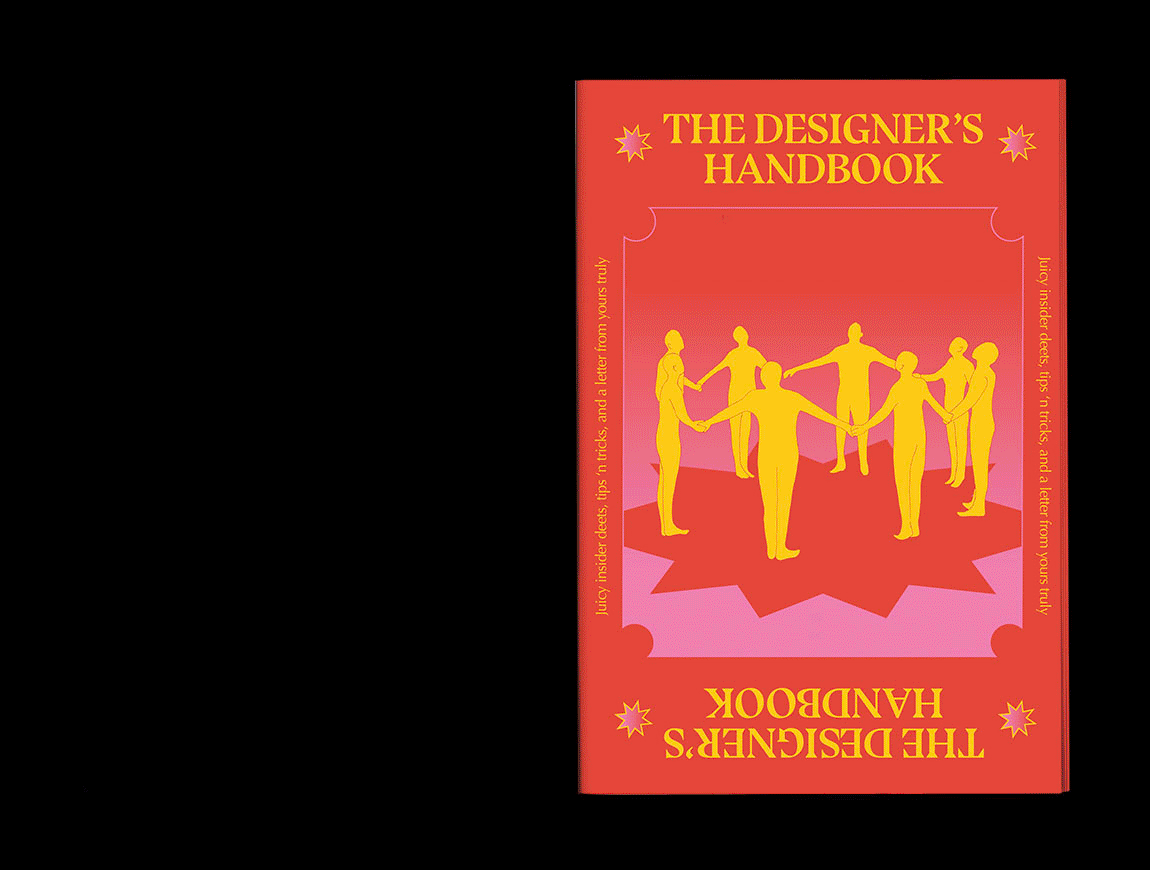 DECISION TREE (24in x 36in)
This is an interactive poster where students receive a suggested discipline of interest after answering a set of questions. For students who aren't sure what they're interested in, this could provide as a starting point for the experience. After finding a discipline of interest, they can then refer to more information about that discipline in the zine and tarot card visualizations.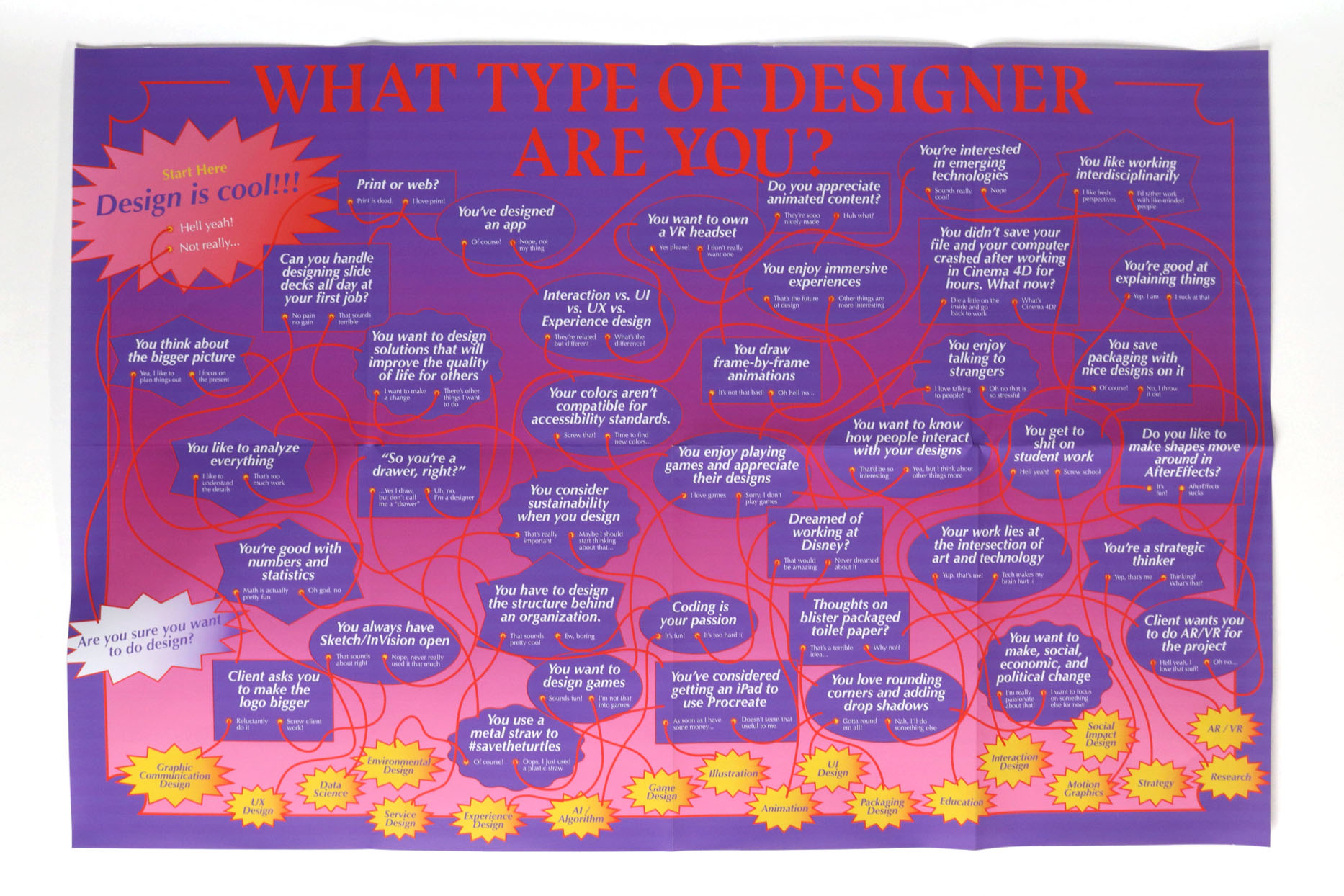 FORTUNE TELLER (5in x 5in)
This last element is a takeaway foldable fortune teller. It offers more general advice for those stuck in a creative rut.